New Markets Tax Credits Invested into Downtown Sturgis Mixed-use Development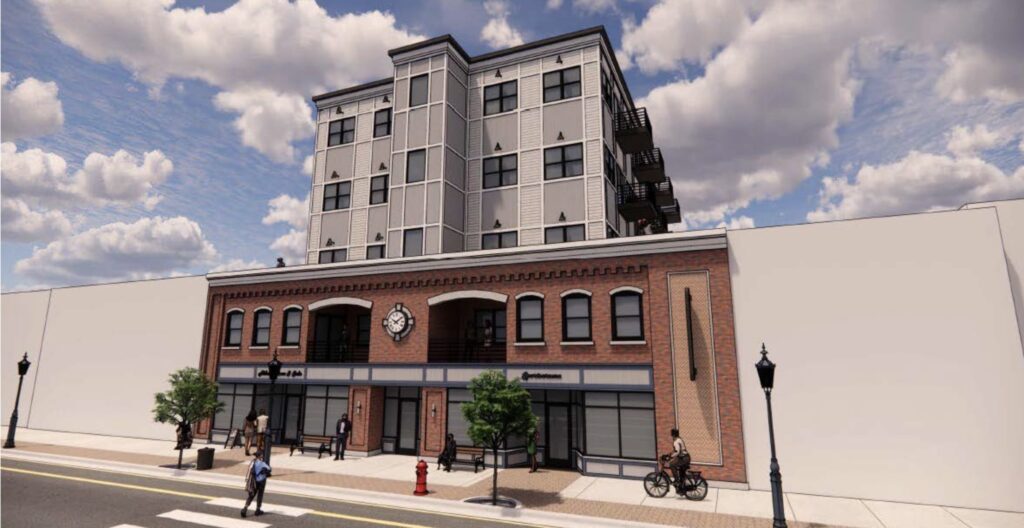 Michigan Community Capital among Community Development Entities supporting The Watershed development by Root and Branch Real Estate
FOR IMMEDIATE RELEASE
September 8, 2022
The Watershed, a development by Root and Branch Real Estate, will redevelop three underutilized sites downtown Sturgis by constructing a new modern, five-story, 25,000-square-foot mixed-use building. The roughly $11 million-project is being supported with $10 million in New Markets Tax Credit allocation from Michigan Community Capital in addition to contributions from the City of Sturgis, Michigan Economic Development Corporation, and Old National Bank.
Located at 108 W Chicago Road, The Watershed will create 23 residential units above a first-floor restaurant space. Upper four floors of the building will be a mix of studio, one-bedroom, and two-bedroom apartments. Six apartments will be income-restricted to renters earning upto 80% of the area median income while 13 units are expected to to lease at rents that would cause them to be "naturally occurring affordable" at these same income levels.
The new first-floor steakhouse-style restaurant is expected to create 30 full-time jobs paying a living wage in a severely distressed, non-metro census tract with a 25% poverty rate and a median family income of 59% the area median income. 29 of the new 30 positions will be accessible to applicants with accredited education less than a four year degree. Additionally, the restaurant will partner with GT Independence, a project partner company, to create a disability employment program. This program will focus on helping local people with physical or intellectual disabilities obtain paid internships with the steakhouse, receive support designed to help the employee identify and achieve career goals, develop job-related skills, and plan for advancement within or outside of the restaurant.
Root and Branch President, John Carmichael said, "I am very excited about the impact this project will have on our community. The facility will help to alleviate a significant housing shortage and bring added vibrancy to Sturgis' downtown. This collaboration with great organizations like Michigan Community Capital and GT Independence will also bring opportunities for people who are traditionally underemployed to have meaningful, competitive employment."
The Watershed project is receiving $10 million in New Markets Tax Credit allocation from Michigan Community Capital.
"MCC has a history of investing in rural communities. Attractive and vibrant downtowns are critical to the health and growth of rural communities, and we applaud the Root and Branch team for making investments that serve so many different needs at the same time," said Eric Hanna, president and CEO at Michigan Community Capital. Projects like this impact how people feel about themselves, and their community and this project will be an asset for decades to come."
Michigan Economic Development Corporation is providing the project with loans totaling $4.1 million through the Michigan Community Revitalization Program (MCRP).
"The Watershed project will transform vacant property into a vibrant, mixed-use building in downtown Sturgis, creating job opportunities for people with disabilities and providing needed housing for area residents," said MEDC Executive Vice President of Economic Development Incentives Michele Wildman. "At MEDC, we are committed to supporting transformative projects that help create vibrant, resilient communities, while supporting our strong economic recovery statewide. We are pleased to collaborate with Michigan Community Capital and other partners on this project, which will help make Sturgis an even more attractive place to live, work, visit, and play."
In addition, an affiliate of Old National Bank is also serving as a tax credit investor in the project.
ONB Community Equity, a subsidiary of Old National Bank, is honored to support the financing of this catalytic project for the city of Sturgis that will bring quality housing and accessible job opportunities for all individuals to the historic downtown area," said Mike Harbaugh VP and tax credit relationship manager at Old National Bank.
The City of Sturgis also supported the The Watershed project with a $400,000 development grant and the approval of a brownfield tax increment financing (TIF) plan. Sturgis Area Community Foundation contributed a $500,000-grant.
The Watershed is well-aligned with the City of Sturgis Master Plan which highlights the need for a greater variety of housing types to ensure people of all ages and income levels can live and succeed in Sturgis. Additionally, the project aligns with the plan's finding that residents' top priority for downtown retail options is to add more food and beverage establishments.
A groundbreaking event was held at the site on August 11, 2022. Construction is anticipated to be completed in fall 2023.For more project information, and to follow progress, visit: thewatershedsturgis.com.
About Michigan Community Capital
Michigan Community Capital (MCC) is a non-profit diversified public-private partnership that supports the missions of the Michigan Economic Development Corporation (MEDC) and the Michigan State Housing Development Authority (MSHDA) by aggregating capital and facilitating the financing and development of low-income and attainable housing, and the redevelopment of complex brownfield sites within the State of Michigan. MCC is a U.S. Treasury certified Community Development Financial Institution (CDFI) and the only Community Development Entity (CDE) that deploys this resource solely throughout the entire State of Michigan. Over its 16-year history, MCC has supported over $1 billion in project financing, successfully attracted $320 million in federal New Markets Tax Credits, and helped to create over 750 housing units and 1.3 million square feet of commercial, retail and industrial space to facilitate job creation and expansion. MCC provides products in four key pillars: housing equity, bridge and gap lending, New Markets Tax Credits, and property insurance for Low-Income Housing Tax Credit projects. For more information on MCC visit michigancommunitycapital.org.
###