New homes under construction in Flint's historic Carriage Town neighborhood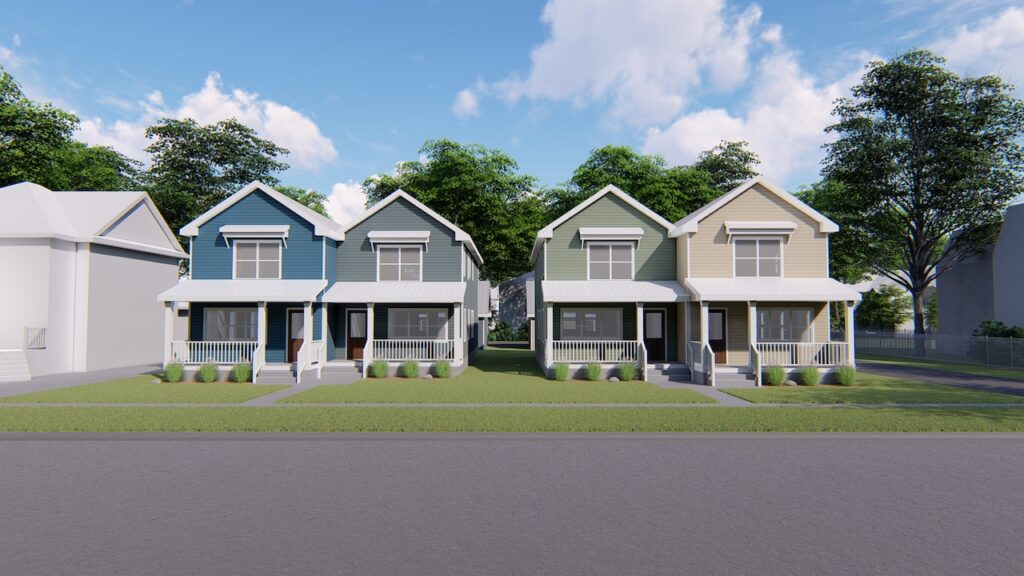 From vacant lots to vibrant community homes
Wednesday, March 8, 2023
Six new houses are being built in Flint's Carriage Town neighborhood thanks to a coordinated effort between Michigan Community Capital (MCC) and Uptown Reinvestment Corporation (URC). This project will be some of the first new construction of homes in this historic neighborhood in nearly a century.
The homes, which are being developed by Flint Home Ownership Initiative, LLC, will be located on West 2nd Avenue between North Grand Traverse and Mason streets on three parcels owned by the Genesee County Land Bank Authority. By developing houses on these strategic parcels within the neighborhood, project partners strive to promote homeownership, generate long-term tax revenue for the city, help stabilize the local residential housing market, build on the neighborhood's strong sense of community, and model sustainable finance structure for future investments in Carriage Town.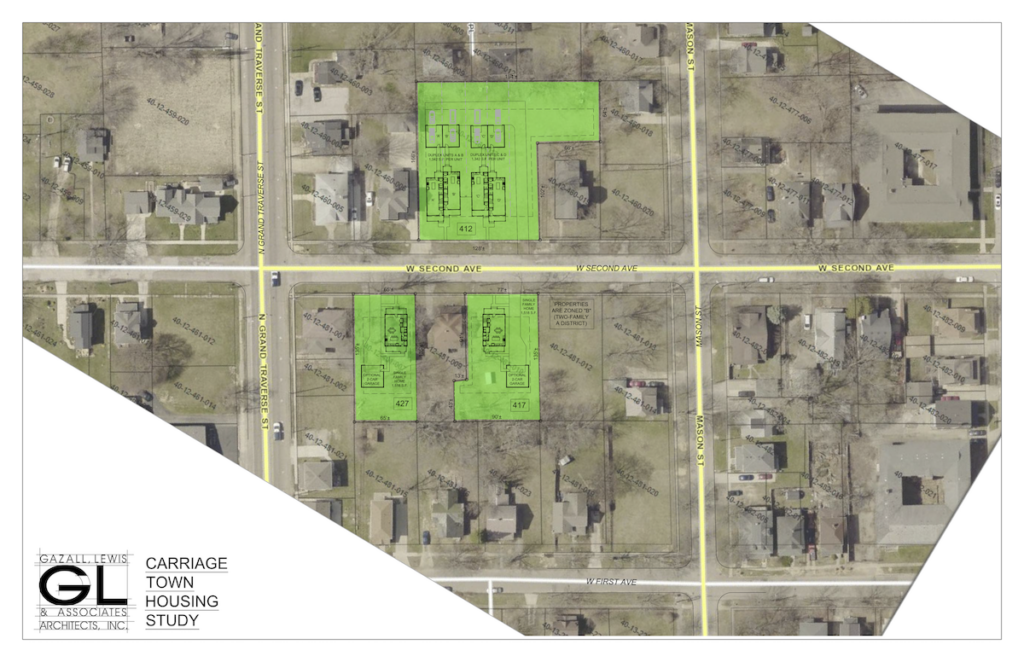 Carriage Town is a fantastic neighborhood in the city of Flint that has a rich history and community character. We are proud to bring additional homeownership opportunities at a variety of price points to continue investment in this unique district.

Marilyn Chrumka, VP of investments at Michigan Community Capital.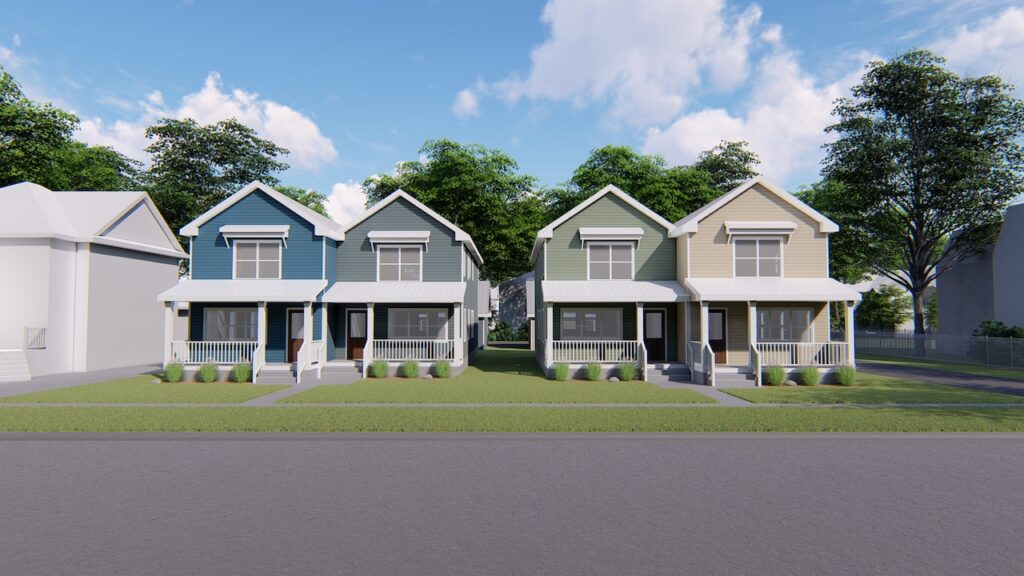 At 412 West Second Avenue, a small condo association is being developed on the 1/2-acre site. The two sets of duplexes (four homes in total) were designed to fit into the scale and character of the neighborhood. Each 3-bedroom, 2-bathroom unit will be approximately 1,250 square feet and will feature a front porch, rear detached garage, and high-quality building materials. The condo association fee will cover common area maintenance, exterior home repairs, landscaping and snow removal.
"This project is a significant step forward for the Carriage Town neighborhood and the City of Flint. These six housing units are some of the first market-rate single-family homes built in Flint in nearly a decade. This public-private partnership aligned the unique resources of local, county, philanthropic, and federal stakeholders to provide safe and quality workforce housing. In addition, we are honored to work alongside neighborhood residents and organizational partners to contribute to the ongoing neighborhood investments in Carriage Town."

Moses Timlin, MUPP, Development Coordinator at Uptown Reinvestment Corporation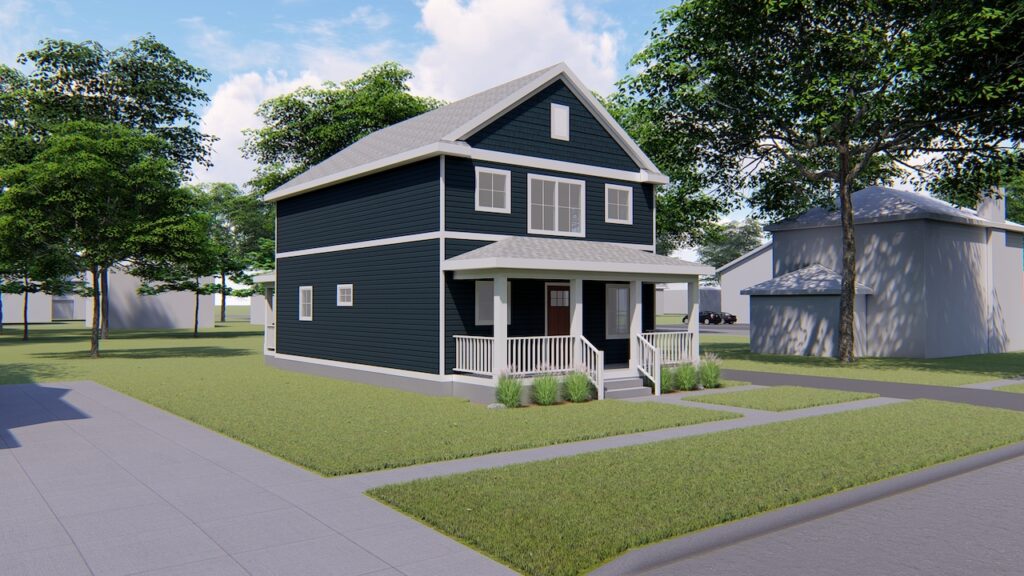 Across the street, the vacant parcels at 417 and 427 West Second Avenue will each be redeveloped into a 1,500-square-foot, 3-bedroom, 2.5-bathroom, single-family home.
Thoughtful design on all of the homes reinforces the character of historic district through complementary new construction.
Construction materials include:
Slab on Grade Foundations
Wood frame, stick-built construction
Composite siding
Asphalt shingles
Anderson 100 Windows
Interior walls will be drywall & painted
Carpeted bedrooms
Luxury Vinyl Tile floor common areas
Quartz or granite Counters
Solid wood cabinets
Kitchen island
Tile backsplash in kitchen
Stainless steel kitchen appliances
Fiberglass shower/tub
Washer/Dryer included
Duplexes come with single-car garage & two surfaced parking spaces
Single-family homes have garage add-on option for additional cost
This project is unique because it utilizes Brownfield Tax Increment Financing in partnership with the City of Flint to help offset the construction cost and the homes' market-rate price. The project aims to be an example to encourage other investors to build new-construction homes on vacant lots in the city of Flint. In addition, the project showcases strong public-private partnerships by redeveloping Genesee County Land Bank Authority-owned parcels, which will be transferred to the private homebuyer upon sale. Lastly, this $2-million project uses a combination of public and private funding from the Community Development Finance Institution Fund, Charles Stewart Mott Foundation, URC and Michigan Community Capital.
This development could not be built without community support! The Carriage Town Historic Neighborhood Association provided valuable feedback and letters of support to obtain Historic District Commission and City Council Approval.
All six homes are anticipated to be listed for sale in January 2024 and are currently projected to range in price from $155,000 to $175,000.
---