Mixed-Use YMCA Project will Revitalize Long-Vacant Property in Downtown Flint 
Michigan Community Capital invests New Markets Tax Credits into Flint development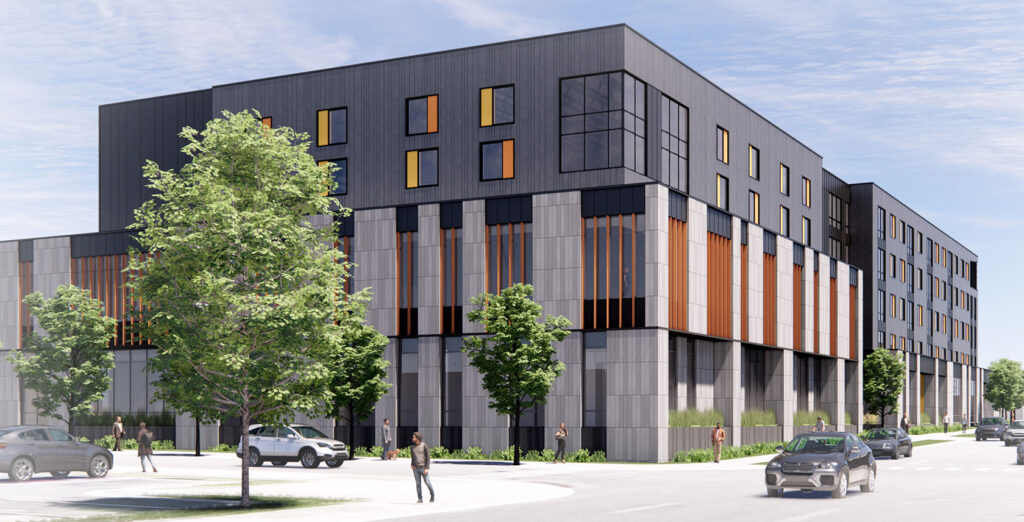 FOR IMMEDIATE RELEASE
April 4, 2023
LANSING, Mich. – Developers Uptown Reinvestment Corporation and HWD Harrison, Inc are undertaking an approximately $41-million, mixed-use, four-story development in downtown Flint with the support of $16 million in New Markets Tax Credit allocation from Michigan Community Capital (MCC).
The project revitalizes a long-vacant, blighted property into a 115,000-square-foot building that will include a physical rehabilitation facility, more than 7,500 square feet of office space, 50 apartments, and a full-service, fully accessible YMCA. The new YMCA facility will offer a competitive lap pool, family splash pad, basketball court, exercise studios, running/walking track, locker rooms, community space, and after-school rooms. All 50 apartments will be located on the second through fifth floors, and 19 will be dedicated to households earning less than 80% of the area median income (AMI).
"We are honored to be partners in the Harrison Street Commons. Providing 50 high-quality, mixed-income housing units in the heart of Flint is part of the transformational change we strive for in our work," said Development Coordinator at URC, Moses Timlin. "Through this development, we envision a more vibrant and resilient downtown with increased walkability, density, occupancy, and diversity of building uses."
Bringing additional foot traffic and economic activity to the area and serving as a catalyst for future development in Flint, the project is expected to generate a total capital investment of $41 million, bring over 10,000 unique program participants into the facility, and create or retain 51 full-time equivalent jobs.
"Housing, entertainment and recreation are all critically important parts of a vibrant neighborhood. We are thrilled to see and support our partners in Flint as they work so intentionally to create a thriving, attractive and equitable downtown community," said Eric Hanna, president and CEO of Michigan Community Capital.
Magnet Lending Corporation, an affiliate of Michigan Community Capital, is supporting the project by way of a direct loan in the amount of $2.9 million.
The project is being supported by a $1.5-million MCRP performance-based grant and a $5.5-million MCRP performance-based direct loan from the Michigan Economic Development Corporation (MEDC).
"The YMCA project will not only revitalize long-vacant property on a key block in downtown Flint into a vibrant mixed-use development that will offer housing options and recreational amenities to area residents, but it will also bring additional foot traffic and economic activity to the area and serve as a catalyst for future development in Flint," said MEDC Executive Vice President of Economic Development Incentives Michele Wildman. "At MEDC, we are committed to supporting transformative projects that help create vibrant, resilient communities as part of our efforts to create a holistic, people-first approach to economic development in Michigan. We're pleased to work with our partners to support this project and look forward to seeing the additional investment it will encourage in other Flint neighborhoods."
PNC Bank, N.A. is serving as the New Markets Tax Credit investor and contributed $4 million of its own NMTC allocation to the financing of the project.
"PNC is committed to working with organizations that seek to address pressing needs in communities across our footprint," said David Gibson, senior vice president and manager of Specialty Tax Credit Investments for PNC Tax Credit Solutions. "With the addition of this mixed-use facility to the community, Flint residents will have access to new, high-quality housing, retail and lifestyle options."
The City of Flint is offering a 30-year payment in lieu of taxes at 10 percent, with an estimated value of more than $1.5 million.
"The City's Imagine Flint Master Plan calls for desirable, stable, and inclusive neighborhoods, with a range of affordable and attractive housing options available to a diverse population. This project is a great example of providing both quality affordable housing and recreational opportunities for all City of Flint residents. We are so proud to be partnering with so many public and private partners as we continue to move the city forward," said Suzanne Wilcox, director of planning and development for the City of Flint.
"We are excited to be a part of this unique project in the heart of Flint," shared YMCA of Greater Flint CEO Shelly Hilton. "Many partners have collaborated to create a truly modern facility that will address the needs of Flint and Genesee County residents into the future."
For additional information on this project visit https://flintymca.com/buildingcommunity/.
About Michigan Community Capital
Michigan Community Capital (MCC) is a non-profit diversified public-private partnership that supports the missions of the Michigan Economic Development Corporation (MEDC) and the Michigan State Housing Development Authority (MSHDA) by aggregating capital and facilitating the financing and development of low-income and attainable housing, and the redevelopment of complex brownfield sites within the State of Michigan. MCC is a U.S. Treasury certified Community Development Financial Institution (CDFI) and the only Community Development Entity (CDE) that deploys this resource solely throughout the entire State of Michigan. Over its 18-year history, MCC has supported over $1 billion in project financing, successfully attracted $380 million in federal New Markets Tax Credits, and helped to create over 750 housing units and 1.9 million square feet of commercial, retail and industrial space to facilitate job creation and expansion. MCC provides products in four key pillars: housing equity, bridge and gap lending, New Markets Tax Credits, and property insurance for Low-Income Housing Tax Credit projects. For more information on MCC visit michigancommunitycapital.org.
###
LiveWell on Harrison Groundbreaking 5/4/23