Award winning month for Michigan Community Capital 
Two national awards and one statewide award name Michigan Community Capital as recipient in May 2023
FOR IMMEDIATE RELEASE 
Thursday, June 1, 2023 
LANSING, MICH. – May was a monumental month for Michigan Community Capital (MCC) who accepted three awards from two industry organizations. Two (2) New Markets Tax Credit (NMTC) investments led to receiving the Real Estate QLICI of the Year and Small Business QLICI of the Year designation from the 2023 Novogradac Journal of Tax Credits Community Development QLICIs of the Year. Additionally, MCC's Lofts on Rowe development received the 2023 Tax Credit Award from the Michigan Historic Preservation Network (MHPN).
For 18 years, Michigan Community Capital (formally Michigan Magnet Fund) has invested in transformational community development projects across the state of Michigan that create housing, jobs and access to fresh food through NMTC allocations. Since the organization's inception, MCC has worked to advance these projects using the best tools possible, even if it means creating new tools or wearing new hats.
Starting in 2018, MCC has taken its lending and investment know-how and began development of projects starting with Cadillac Lofts. As of today, nine (9) properties developed and/or co-developed by MCC has led to investing more than $89 million in Michigan communities, creating 421 new residential units and 68 new permanent jobs, and activating almost 350,000 square feet of indoor real estate.
Being a community development lender has helped Michigan Community Capital become a diligent and lean developer, and their development experience has also influenced their lending and investment approach.
"We are honored to be recognized by our partners and friends at MHPN, and proud to be recognized nationally by Novogradac Journal of Tax Credits," said Eric Hanna, president and CEO of Michigan Community Capital. "The MCC team works very hard to deliver projects that communities need, whether as a lender, developer, investor, or insurer. We are grateful to both organizations for recognizing our work and the impact it has on the communities we serve."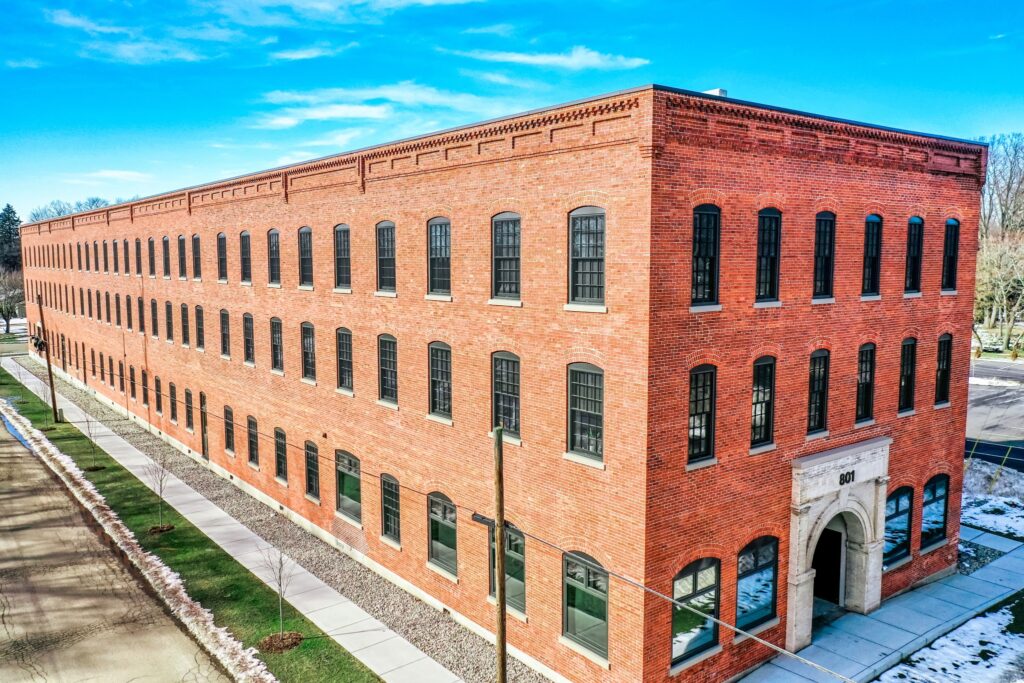 2023 Michigan Historic Preservation Network Tax Credit Award
Lofts on Rowe
Michigan Community Capital's development, Lofts on Rowe, was named the winner of a 2023 Tax Credit Award from the Michigan Historic Preservation Network (MHPN), and the award was presented in-person on Friday, May 12 at the 2023 MHPN Annual Conference on Mackinac Island.
After sitting vacant for nearly 30 years, the 1892-brick building fronting a full city block on the edge of a residential neighborhood just north of Ludington's downtown was rehabilitated into 67 residential units. The building housed a series of manufacturing businesses, including Carrom wooden games and Haskell Canoe Company, and served as the headquarters for the Civilian Conservation Corps Camp Ludington in the 1930s.
The building's industrial character is featured in the exposed interior brickwork and original wood beams. Amenities available to residents include a fitness room, bike storage, and on-site parking, and the ground level offers a commercial suite for local small businesses.
Utilizing historic tax credits, the $14-million project revitalized a long abandoned and neglected historic building in the heart of the neighborhood, giving the city and region a historic asset that will serve residents and community members for decades to come.
Michigan Community Capital served as the developer on the Lofts on Rowe project, and additional partners included Michigan Economic Development Corporation, Pennies from Heaven Foundation, PNC Bank, West Shore Bank, the City of Ludington and Mason County.
Two awards from the 2023 Novogradac Journal of Tax Credits Community Development QLICIs of the Year Awards named Michigan Community Capital. 
Real Estate QLICI of the Year 
The Freelon at Sugar Hill 
The Freelon at Sugar Hill is an inclusive community for all Detroiters, reinforcing urban vitality in Midtown Detroit's Sugar Hill Arts District. The $35-million project co-developed by the Preservation of Affordable Housing (POAH) and Develop Detroit, replaced a vacant lot across the street from the John D. Dingell VA Medical Center with 68 apartments, 11,900 square feet of retail space, and a 160-space parking garage. Of the 20 affordable housing units, 14 were created for veterans served by the U.S. Department of Housing and Urban Development's HUD-VASH program through the Dingell VA Center. Another six apartments are set aside for those earning up to 80 percent of area median income. The mixed-use building supports inclusive growth within the historic district as a cultural, commercial, and residential destination.
MCC provided $6 million in NMTC allocation in partnership with PNC Bank, Building America CDE, and Cinnaire.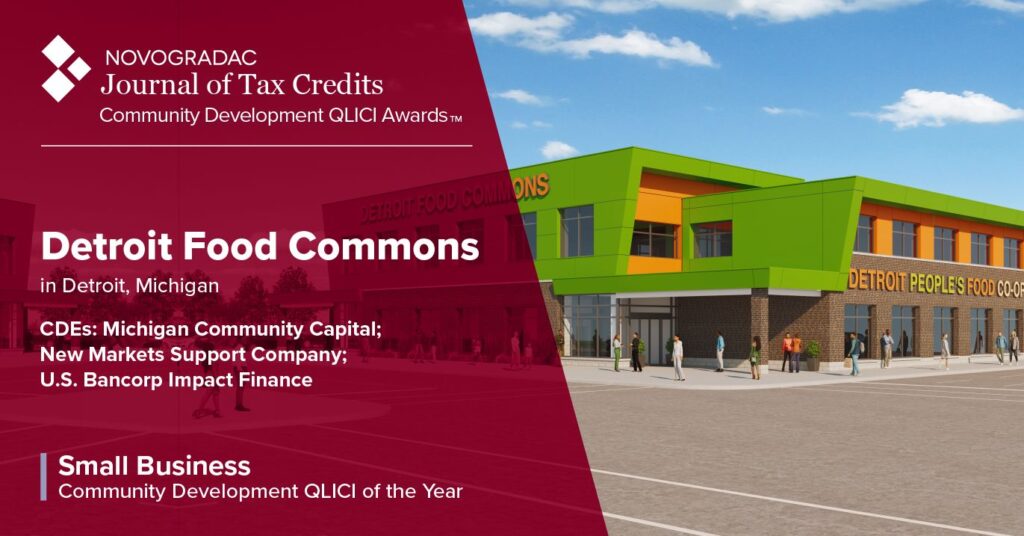 Small Business QLICI of the Year
Detroit Food Commons
The Detroit Food Commons is a new-construction development on the southeast corner of Woodward Avenue and Euclid Street in Detroit's North End neighborhood. The two-story, 31,000-square-foot building will house the Detroit People's Food Co-op – a community-owned grocery selling healthy, locally sourced food, a deli and bakery, and a neighborhood café – on the first floor. The second floor will house four teaching kitchens, a banquet hall/community meeting space and office spaces for nonprofit organizational use. 
Located within a CDFI-qualified severely distressed census tract, the ground-level grocery will provide healthy, affordable options to more than 31,000 low–income community members and over 19,000 food desert residents within a 1.5-mile trade radius.
The nearly $20-million project spearheaded by non-profits Detroit Black Community Food Security Network (DBCFSN) and Develop Detroit (DDI) received $7 million in New Markets Tax Credits allocation from Michigan Community Capital in partnership with New Markets Support Company, and U.S. Bancorp Impact Finance.
The Novogradac Journal of Tax Credits Community Development QLICIs of the Year Awards recognize community development entities (CDEs) that made exceptional qualified low-income community investments (QLICIs) in the past year. The in-person award ceremony will be held at 9 am Eastern, Thursday, June 8, at the Fairmont Washington, D.C. Georgetown, during the Novogradac 2023 Spring New Markets Tax Credit Conference. 
About Michigan Community Capital
Michigan Community Capital (MCC) is a non-profit diversified public-private partnership that supports the missions of the Michigan Economic Development Corporation (MEDC) and the Michigan State Housing Development Authority (MSHDA) by aggregating capital and facilitating the financing and development of low-income and attainable housing, and the redevelopment of complex brownfield sites within the State of Michigan. MCC is a U.S. Treasury certified Community Development Financial Institution (CDFI) and the only Community Development Entity (CDE) that deploys this resource solely throughout the entire State of Michigan. Over its 18-year history, MCC has supported over $1.2 billion in project financing, successfully attracted $380 million in federal New Markets Tax Credits, and helped to create over 1,350 housing units, 1.3 million square feet of commercial, retail and industrial space to facilitate job creation and expansion and insures over 22,000 affordable multifamily doors. MCC provides products in four key pillars: housing equity, bridge and gap lending, New Markets Tax Credits, and property insurance for Low-Income Housing Tax Credit projects.
###