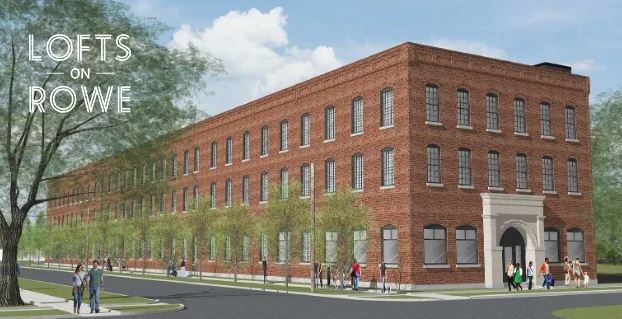 Lofts on Rowe Historic Redevelopment Breaks Ground
FOR IMMEDIATE RELEASE
MAY 5, 2021
LANSING , Mich. – In the middle of a charming neighborhood in Ludington, a massive brick building has sat vacant at 801 North Rowe Street for many years. Built in 1892, it is a physical monument to the manufacturing legacy of the region. The building begins a new chapter this week, as construction starts on a $14-million renovation.
Several years in the making, the project will convert the 45,000-square-foot, open factory space into 65 stylish apartments and 750 square feet of commercial space. The apartments will have high ceilings; large, arched, historic windows; granite countertops; stainless steel appliances; and will retain many of the unique characteristics of this 129-year-old building.
"This project has been a labor of love," said Marilyn Crowley of Michigan Community Capital, the project developer. "We can't wait to see new life come to this important historic building. This project would not have been possible without the significant support from the community."
As early as 1904, the building housed a variety of wood-based product manufacturing such as typeset for printing presses, a popular board game Carrom, and a revolutionary product called Haskelite invented by a Ludington local, Henry Haskell. This waterproof, moldable plywood product was used in making canoes, automobile and bus roofs, airplanes and other modern products of the 1920s. The building's manufacturing history qualified the property to be listed on the National Register of Historic Places.
The old, yet sturdy exterior will contrast beautifully with modern building amenities including an elevator, electronic key access, building-wide security cameras, community room and fitness room with free wi-fi, in-unit washer/dryers and energy efficient appliances.
"This is an exciting moment that belongs to our community," said Monica Schuyler from the Pennies from Heaven Foundation. "As a community, we all worked to support this effort to revitalize this beautiful and unique piece of our history to become a beautiful place to live, meeting a huge need in our region, and continuing this building's legacy for years to come. I could not be prouder of our community."
The Pennies from Heaven Foundation has been a significant supporter and funder of the project. The organization provided $1 million of grant money specifically for creation of middle-income housing units and neighborhood revitalization.
Local couple, Ron and Dawn Sarto, also supported the goal of creating housing by donating the property to Michigan Community Capital in 2019.
"The City of Ludington is grateful to everyone involved from the beginning of this project. Adding more housing units has been a long-standing need, not just in Ludington, but throughout the county," said the honorable Steve Miller, Mayor of the City of Ludington. "We're very much looking forward to seeing the completion of this project and the others that will be following, as they signal positive growth in our community."
The City of Ludington approved an Obsolete Property Rehabilitation Abatement as well as an adaptive reuse ordinance to encourage this historic redevelopment. In addition, the City sold the property adjacent to the development and will relocate their maintenance and storage barns to provide room for resident parking.
The Mason County Board of Commissioners and the City of Ludington approved a brownfield plan that will reimburse the project for brownfield-eligible activities, such as lead and asbestos abatement and installation of a vapor mitigation system. This has helped offset the cost of redeveloping the vacant, functionally obsolete, blighted property. This plan was supported by the Michigan Department of Environment, Great Lakes, and Energy (EGLE) as well as the Michigan Economic Development Corporation (MEDC).
The Michigan Strategic Fund approved a $2-million Community Development Block Grant to eliminate blight through historic preservation, as well as Ludington's first federal historic tax credit coordinated by the Michigan State Office of Historic Preservation.
"The Lofts on Rowe project is rehabilitating the historically significant former Haskell Manufacturing Company Building into a unique and vibrant year-round affordable housing option for key segments of the workforce in Ludington," said Michele Wildman, Senior Vice President of Community Development at the Michigan Economic Development Corporation. "The MEDC is committed to supporting transformative projects that honor our history and help create vibrant, resilient communities, while supporting our strong economic recovery statewide. We are pleased to collaborate with Michigan Community Capital and our local partners on this project, which will help make Ludington an even more attractive place to live, work, visit, and play."
The historic designation of the property allows for access of federal historic tax credits for 20 percent of the rehabilitation costs. PNC Bank is the tax credit investor for this project.
"PNC Bank is proud to help revitalize this historic building," said Sean Welsh, PNC Regional President for West Michigan. "This project is consistent with PNC's long-term support of neighborhood revitalization, education and economic development in the communities we serve."
Westshore Bank is funding the project with a $6.3-million loan as well as bridge loans for the Community Development Block Grant and the historic tax credit. It was important to this local bank to support housing in the region.
"We are excited about what Lofts on Rowe means for the Ludington area," said Bobby Fisher, Vice-President-Commercial Loan Officer at Westshore Bank. "Recognition needs to be given to Michigan Community Capital and the City of Ludington for seeing and executing the vision for this project. We are truly grateful to be a part of it and look forward to seeing its impact."
"MCC is thrilled to be part of a huge effort by this community to bring in badly needed housing for year-round residents working in Ludington and to save this great historic resource for generations to come," said Eric Hanna, President and CEO of Michigan Community Capital. "This project organically evolved from partnerships with local stakeholders and business owners with the city, county, state, federal historic tax credits and even local community banks; everyone seemed to align to overcome lots of obstacles and solve problems. After over a year of work, it's so satisfying to watch the project moving forward."
Residential leasing for Lofts on Rowe is anticipated to begin in spring 2023. Apartments will be priced between $750 and $1,300 per month with studio, one-bedroom, two-bedroom and three-bedroom units available.
For more information about this project, apartments or leasing the commercial space, and to view the project's groundbreaking video, please visit loftsonrowe.com.
Michigan Community Capital (MCC) is a non-profit diversified Public Private Partnership that supports the mission of the Michigan Economic Development Corporation (MEDC) and the Michigan State Housing Development Authority (MSHDA) by aggregating capital and facilitating the financing and development of low-income and attainable housing and the redevelopment of complex brownfield sites within the State of Michigan. MCC is a US Treasury certified Community Development Financial Institution (CDFI) and a certified Community Development Entity (CDE). MCC has successfully attracted federal New Market Tax Credits, supported over $900 million in project financing and helped to create over 750 housing units and over 950,000-square-feet of commercial, retail and industrial space to facilitate job creation and expansion. MCC provides products in four key pillars: housing equity, bridge and gap lending, New Market Tax Credits and property insurance for Low Income Housing Tax Credit projects. For more information on MCC visit michigancommunitycapital.org.
###