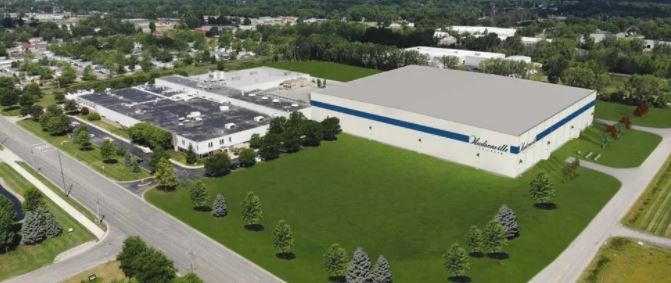 Hudsonville Expands Operations with NMTC from MCC
LANSING, Mich. – Hudsonville Creamery and Ice Cream Company, LLC will continue facility expansions with assistance from a New Market Tax Credit (NMTC) allocation from Michigan Community Capital (MCC). The project will further upgrade manufacturing capabilities in Holland, Michigan which includes building a new cold storage facility and adding a new production line. The expansion, which will take place this year, will create an additional 40,000 square feet of renovated manufacturing space and is anticipated to create 41 living-wage jobs.
"The continued evolution of Hudsonville Ice Cream's production facilities in Holland represents our commitment to the West Michigan community, with opportunities to hire local talent and partner with neighboring farms and businesses," said Kevin Phillips, chief financial officer of Hudsonville Ice Cream. "We have proudly called the West Michigan region home for 95 years, and our facility expansions enable us to continue producing a variety of ice cream products while expanding our distribution throughout Michigan, the Midwest and beyond."
New Market Tax Credits are a federal subsidy tool administered by the U.S Department of Treasury designed to attract capital to projects that support low- and moderate-income households and communities. MCC is the only Community Development Entity (CDE) that deploys this resource entirely in the State of Michigan. Since the organization's formation in 2004, MCC has secured a total of $255 million dollars in tax credit allocation through competitive rounds to support Michigan businesses and communities. MCC uses NMTC's to support job creation, access to healthy food, and mixed-use projects, including mixed-income housing and commercial businesses that benefit low-income households.
This project takes place in a census tract where 34.8% of the population falls below the poverty line. The creation of 41 new jobs that include benefits such as healthcare, retirement, and paid time off will greatly benefit the families of these new workers.
The project will have a significant positive impact on the surrounding community beyond just the direct job creation. Hudsonville Ice Cream prefers to purchase from Michigan suppliers whenever possible, with the expanded facilities expected to increase annual milk and cream demand at the facility by tens of millions of pounds, with much of the anticipated purchasing to come from local dairy farms.
"The success of any business starts with a recognition that its employees are among its most valuable assets. Hudsonville's commitment to living wages and benefits, its origins as a local dairy co-operative and its dedication and track record of giving back to the community are deserving of the support that MCC provided to this project," said Eric Hanna, president and CEO of Michigan Community Capital. "This expansion is a great example of cooperation between the public and private sector that benefits everyone involved."
PNC Bank will provide a $12.6 million dollar loan as well as an investment in the New Market Tax Credits.
"We are pleased to collaborate once again with Michigan Community Capital on this important transaction and look forward to broadening our relationship in the future," said Jonathan Swigert, vice president and New Market Tax Credit originator for PNC Bank. "PNC is proud to be part of the economic development that will stem from Hudsonville's continued expansion."
For more information on this project and other New Market Tax Credit projects, visit michigancommunitycapital.org.
About Hudsonville Creamery and Ice Cream Company, LLC
Hudsonville Ice Cream has been making moments sweeter with delicious ice cream for 95 years. Headquartered in Holland, Michigan, and serving more than a dozen states, this family-owned and operated company has revolutionized how ice cream is made by building the most progressive ice cream manufacturing facility in the country to produce the creamiest, best tasting ice cream meant for any occasion. Hudsonville Ice Cream combines time-tested recipes with the freshest ingredients, including dairy from local farms, to make favorite flavors people know and love, while creating seasonal Limited Editions and unique small batch flavors with local partners. Learn more at www.hudsonvilleicecream.com.
About PNC Bank
PNC Bank, National Association, is a member of The PNC Financial Services Group, Inc. (NYSE: PNC). PNC is one of the largest diversified financial services institutions in the United States, organized around its customers and communities for strong relationships and local delivery of retail and business banking including a full range of lending products; specialized services for corporations and government entities, including corporate banking, real estate finance and asset-based lending; wealth management and asset management. For information about PNC, visit www.pnc.com.
About Michigan Community Capital
Michigan Community Capital, "MCC," is a Lansing, Michigan-based private non-profit, a 501 (c)3 public charity, a Community Development Entity, and a U.S. Treasury licensed Community Development Finance Institution. MCC focuses on public-private partnerships to complete projects that the private sector would not pursue. Over its 14-year history, the company has completed 25 projects utilizing $203M in Federal New Market Tax Credit allocation and has worked to finance the development of over 290 units of rental housing, addressing a continuously expanding gap called the "Missing Middle". MCC is a supporting organization to the Michigan Economic Development Corporation and the Michigan State Housing Development Authority and works with a number of local, regional, and national banks to drive investment into underserved markets in the State of Michigan. For more information on Michigan Community Capital, visit michigancommunitycapital.org.