Dakkota Integrated Systems Expand with New Markets Tax Credits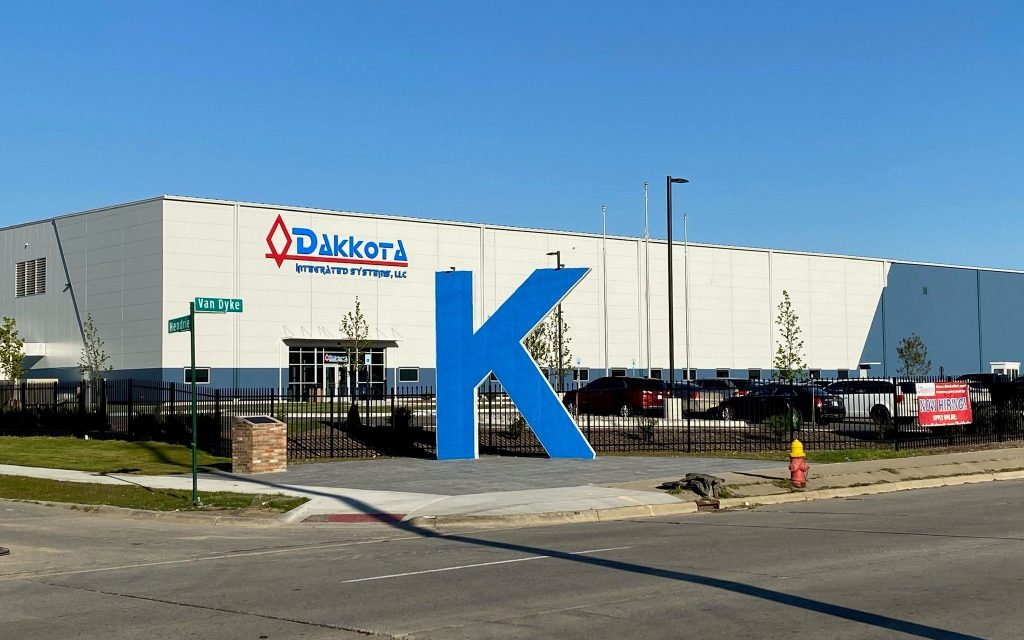 Michigan Community Capital supports Dakkota Integrated Systems' $45-million manufacturing expansion with $8.3 million in New Market Tax Credits
FOR IMMEDIATE RELEASE
JULY 22, 2021
LANSING, Mich. – Dakkota Integrated Systems will continue facility expansions with assistance from a New Markets Tax Credit (NMTC) allocation from Michigan Community Capital (MCC). The project supports the complex assembly of the Instrument Panels for Stellantis Jeep Grand Cherokee at both the Detroit Assembly Complex Mack and Jefferson North Assembly, which are both locally built. The expansion, which started in 2020, will create 300,000 square feet of manufacturing space at the former site of Kettering High School.
The project will create 473 new full-time equivalent jobs in a census tract where 55.7% of the population falls below the poverty line. 446 of these jobs are accessible to people with less than a four-year degree. Benefits for these positions include health insurance, 401K contribution, paid vacation time, short- and long-term disability, job training tuition reimbursement, and education for personal finances, all of which will greatly benefit the families of these new workers.
"We are appreciative to Michigan Community Capital, the local community, Chase Bank and our other financial partners for supporting Dakkota's expansion in Detroit," said Gary Caldwell, Chief Financial Officer at Dakkota Integrated Systems. "The New Markets Tax Credit enhances our mission to create sustainable job opportunities in underrepresented communities for many years to come. It will allow us to achieve our goal of creating high-quality products for our customers at competitive pricing and profitability, which is critical to our success and allows us to achieve a winning environment for all."
New Markets Tax Credits are a federal subsidy tool administered by the U.S Department of Treasury designed to attract capital to projects that support low- and moderate-income households and communities. MCC is the only Community Development Entity (CDE) that deploys this resource solely throughout the entire State of Michigan. Since the organization's formation in 2004, MCC has secured a total of $255 million in tax credit allocation through competitive rounds to support Michigan businesses and communities. MCC uses NMTC's to support job creation, access to healthy food, and mixed-use projects including mixed-income housing and commercial businesses that benefit low-income households.
"Dakkota Integrated Systems has continued to take its role as a corporate citizen very seriously, has been thoughtful about its compensation and hiring practices, and is truly demonstrating a commitment to 'walking the walk' by focusing on hiring Detroiters," said Eric Hanna, President and CEO of Michigan Community Capital. "Those practices, which allow Detroiters to invest in themselves, are ultimately the key to giving the people of Detroit agency over their future. We could not be prouder of Dakkota, and we look forward to working with them and with companies like them in the future."
Chase is investing $2,743,650 in New Markets Tax Credits into the project.
"We're thrilled to work with Michigan Community Capital, Invest Detroit, and Dakkota Integrated Systems on their facility expansion, which will bring jobs to the Detroit community," said James Simmons, Executive Director, Community Development Banking, Chase. "Through New Markets Tax Credit investments, we continue to support the building and revitalization of communities where we live and work."
Invest Detroit is serving as a separate Community Development Entity in the project allocating $1,750,000 in New Markets Tax Credits.
"Invest Detroit's mission is to support projects that create jobs and build a better future for all Detroiters," said Senior Vice President of Lending, Marcia Ventura. "That's why we are thrilled to partner with Michigan Community Capital, Chase Community Banking, the City of Detroit, the Michigan Economic Development Corporation, and Hunting Bank in a collaborative effort to bring this important project to Detroit. The Dakkota manufacturing facility is a job-creator for Detroiters. Partnering with Detroit at Work, they have already placed 109 city residents in full-time, high-quality positions. Collaboration makes these projects happen and is the key to a bright economic future for Detroit and our residents."
About Dakkota Integrated Systems, LLC
Dakkota Integrated Systems was founded in 2001 to supply assembly and sequencing services for the original equipment manufacturer (OEM) automotive market. Specific products include suspensions, instrument panels, overhead systems, center consoles, cooling modules, bumper & grills, and general sequencing. The Company is headquartered in Michigan and has 14 operational locations, including out-of-state facilities in Ohio, Kentucky, Illinois, and Windsor, ON. The Company excels at providing "just-in-time" products to support auto manufacturing. Various levels of technology are employed including automation, robotics, scanning and sophisticated data collection with analysis in order to provide a high level of repetitive quality and integrity of the Company's products/services. This has allowed the Company to continue to grow and support the livelihood of its more than 1,000 Michigan employees and more than 2,350 team members worldwide
About Michigan Community Capital
Michigan Community Capital (MCC) is a non-profit diversified Public Private Partnership that supports the mission of the Michigan Economic Development Corporation (MEDC) and the Michigan State Housing Development Authority (MSHDA) by aggregating capital and facilitating the financing and development of low-income and attainable housing and the redevelopment of complex brownfield sites within the State of Michigan. MCC is a US Treasury certified Community Development Financial Institution (CDFI) and a certified Community Development Entity (CDE). MCC has successfully attracted federal New Markets Tax Credits, supported over $900 million in project financing and helped to create over 750 housing units and over 950,000-square-feet of commercial, retail and industrial space to facilitate job creation and expansion. MCC provides products in four key pillars: housing equity, bridge and gap lending, New Markets Tax Credits and property insurance for Low Income Housing Tax Credit projects. For more information on MCC visit michigancommunitycapital.org.
###