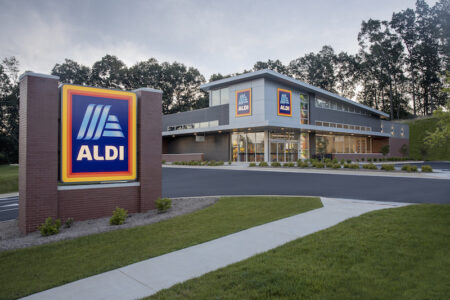 ALDI Coming to Two Rural Michigan Communities 
FOR IMMEDIATE RELEASE
April 28, 2023
Iron Mountain and Sturgis soon to welcome ALDI Grocery
LANSING, Mich. – ALDI Inc. is investing approximately $9.5 million to bring two new locations to rural communities in Michigan. A former Kroger location will be renovated at 811 S Centerville Road in Sturgis, and a new facility will be constructed at 2025 South Stephenson Avenue in Iron Mountain. Each store will be approximately 18,000 square feet and will feature a range of products including fresh meat and seafood, organic produce, and pantry essentials. The developments are being supported with a $7 million New Markets Tax Credit allocation from Michigan Community Capital.
ALDI Inc. is a leader in the supermarket retailing industry that offers discounted healthy groceries to customers in nearly 2,200 stores in 38 states. ALDI focuses on the groceries commonly purchased by shoppers, primarily under its exclusive brands, and is committed to providing customers with the highest quality products at the lowest possible prices. ALDI strives to reduce the company's impact on the environment through energy efficient store design, including state-of-the-art lighting and refrigeration systems that have reduced energy features and environmentally friendly building materials.
ALDI will bring full-service grocery stores to Sturgis and Iron Mountain, both rural Michigan communities where increased affordable, fresh food is greatly needed due to high rates of food insecurity resulting from barriers to access (e.g., lack of transportation, rising food costs, etc.). Approximately 18 new full-time equivalent positions will be created to support the new stores. All positions will be accessible to individuals without a four-year degree and will pay a living wage.
"Michigan Community Capital is committed to leveraging our tools to bring healthy fresh food to underserved communities in Michigan," said Eric Hanna, president and CEO at Michigan Community Capital. "Iron Mountain and Sturgis have both identified bringing more grocery options to their community as a high priority, and we are proud to partner with ALDI as they expand their footprint into Michigan rural markets."
New Markets Tax Credits are a federal subsidy tool administered by the U.S Department of Treasury and designed to attract capital to projects that support low- and moderate-income households and communities. Michigan Community Capital (MCC) is the only Community Development Entity (CDE) that deploys this resource entirely in the state of Michigan. Since the organization's formation in 2005, MCC has secured a total of $380 million dollars in tax credit allocation through competitive rounds to support Michigan businesses and communities. MCC uses NMTC's to support job creation, access to healthy food, and mixed-use projects that include mixed-income housing and commercial businesses that benefit low-income households.
PNC Investment Partners is serving as the New Markets Tax Credit investor on this project.
For more information on ALDI Inc., visit aldi.us.
About Michigan Community Capital
Michigan Community Capital (MCC) is a non-profit diversified public-private partnership that supports the missions of the Michigan Economic Development Corporation (MEDC) and the Michigan State Housing Development Authority (MSHDA) by aggregating capital and facilitating the financing and development of low-income and attainable housing, and the redevelopment of complex brownfield sites within the State of Michigan. MCC is a U.S. Treasury certified Community Development Financial Institution (CDFI) and the only Community Development Entity (CDE) that deploys this resource solely throughout the entire State of Michigan. Over its 16-year history, MCC has supported over $1 billion in project financing, successfully attracted $320 million in federal New Markets Tax Credits, and helped to create over 750 housing units and 1.3 million square feet of commercial, retail and industrial space to facilitate job creation and expansion. MCC provides products in four key pillars: housing equity, bridge and gap lending, New Markets Tax Credits, and property insurance for Low-Income Housing Tax Credit projects.
###